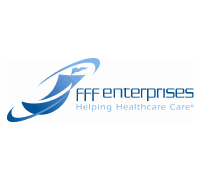 FFF Enterprises, Inc.
Lydia Westphal, Vice President Strategic Relationships
44000 Winchester Road

Temecula, CA 92590

Phone: 800.843.7477
FFF Enterprises, Inc. is the largest and most trusted distributor of plasma products, vaccines, biosimilars and other specialty pharmaceuticals and biopharmaceuticals. Founded in 1988, FFF, a multi-billion-dollar organization, celebrates over 31 years of business and a flawless safety track record for product distribution. FFF is a leader in supply chain safety and innovation, setting new standards and pioneering industry firsts. FFF's commitment to Guaranteed Channel Integrity® ensures that products are purchased only from the manufacturer and shipped only to licensed healthcare providers, with additional steps taken to safely store, handle and ship products to ensure patient safety is never compromised. FFF Enterprises works diligently each day to fulfill its mission of Helping Healthcare Care®, knowing that there is always a patient at the end of every transaction. Wherever and whenever future opportunities are identified, FFF will continue to advocate for the advancement of patient health and safety.